COVID-19
Due to the ongoing pandemic, ProHealth is currently accepting a reduced number of student placement opportunities.
While it remains our goal to provide a robust number of student experiences, we cannot guarantee approval of all submissions. Students and academic institutions are encouraged to consider backup placement opportunities outside of ProHealth, in the event a placement must be declined.
Additionally, all job shadow and observation activities are currently suspended and will remain on pause until all COVID-19 safety precautions and visitation restrictions have been lifted.

If you would like to periodically check the status of our visitor restrictions, please visit ProHealthCare.org and search keyword "visitation".
Welcome Students
ProHealth Care offers educational opportunities in a variety of settings for hundreds of nursing and allied health students each year.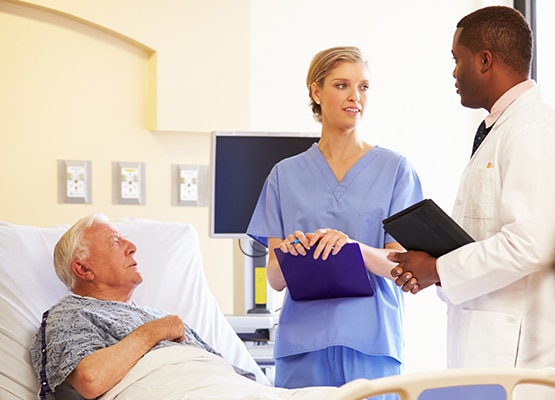 Participation Requirements
Prior to participating in a placement experience with ProHealth Care, including placement in non-patient care environments
(e.g. medical records, IT or lab), the following steps must be completed:

Step 1
Students need to verify with their school's coordinator that their school has completed ProHealth Care's Student Affiliation Agreement. If a school doesn't have an agreement on file, the school's coordinator should contact Student Affiliations to begin the process..
Step 2
Each school's coordinator makes placement requests for students through ProHealth's Student Portal. Coordinators gain access to the portal by contacting Student Affiliations to begin the process. (Only school coordinators have access to the portal - students do not have access.)
Step 3
ProHealth will contact the school's coordinator regarding the status of their student's placement request.
Step 4
If the placement request is approved, students need to complete the items below and submit verification to their school's coordinator:

Section A: Health Requirements
Students are required to have a MMR (Measles, Mumps and Rubella) vaccination. Or, a positive titer, two MMRs or a physician-documented disease.
Students are required to have a Varicella (Chicken Pox) vaccination.
Students are required to have a seasonal flu vaccination from Dec. 1 through March 31.
Students are required to have a negative Mantoux or two-step TB test, annually.
Students who have the potential to be exposed to blood or body fluids are required to have a Hepatitis B vaccination series.
Section B: Background Checks
Both clinical and non-clinical students should ask their school's coordinator for instructions on completing the following:
Students must successfully complete a Wisconsin Caregiver Background Check.
Students must successfully complete a Wisconsin Criminal Background Check.
Students must successfully complete a five-panel drug screen (urine test).
Section C: Additional Paperwork
Section D: Precepted Students Only
Section E: Clinical Groups Only
Please contact Student Affiliations with any questions.

Those interested in provider-level student placements (physicians, PAs, NPs, etc.) should contact Physician Relations.
The ProHealth Experience
ProHealth Care is committed to creating an environment in which every interaction results in a positive experience. We do this by: